Dream Home – St Jude Children's Research Hospital
August 29, 2016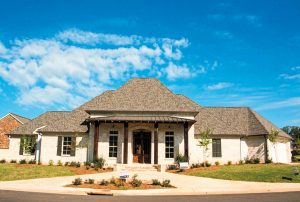 Written by Susan Upton
Photography by Theresa Marie Photography & Design
Originally published in the November/December 2014 issue of Stages Mississippi
This year's St. Jude Dream Home® is truly a gem, full of unique architectural details, custom finishes, and innovative products that make this home different from most. Built by Deep South Custom Homes in the Latter Rayne subdivision in Flowood, this 4 bedroom/3.5 bath, 3,100 sq. ft. home assumes a very rustic style overall, yet it also exhibits modern touches and finishes throughout. This year, St. Jude reached record ticket sales just halfway through the campaign. Open house tours prior to the giveaway were a huge success, thanks to the many volunteers who helped show the home to the public and promote ticket sales.
As I was writing this story, I thought it was important to provide a little background on St. Jude Children's Research Hospital and the St. Jude Dream Home Giveaway. St. Jude opened in 1962 and was founded by the late entertainer Danny Thomas. Its mission is to find cures for children with cancer and other catastrophic diseases through research and treatment. Located in Memphis, Tennessee, St. Jude has treated children from all 50 states and around the world. It is the only pediatric cancer research center where families never pay for treatment not covered by insurance. A child is never denied treatment because of the family's inability to pay. St. Jude has developed protocols that have helped push overall survival rates for childhood cancer from less than 20 percent when the hospital first opened to 80 percent today. In 1962, the survival rate for acute lymphoblastic leukemia, the most common form of childhood cancer, was a mere 4 percent. Today, the survival rate for this once deadly disease is 94 percent, thanks to the research and treatment protocols developed at St. Jude.
The first Dream Home was given away in 1991 in Shreveport, Louisiana. Since then, over 250 homes have been given away and nearly $200 million has been raised for St. Jude. The success of these projects would not be possible without all of the loyal local vendors and sponsors who commit their time and goods to the home each year. The 2014 St. Jude Dream Home in Flowood was blessed with unwavering support from many national and local sponsors. The exterior of the home showcases Magnolia Bay queen brick by Boral Brick, donated by Old South Brick; Hardie Color Plus siding donated by James Hardie; large antique pine beams from a St. Louis mill, donated by Plantation Millworks; a metal shed roof provided by Reeds Metals; and 50-year, high-definition shingle roofi ng by Certain Teed. The garage door and all the sheetrock was donated by Renfrow Supply, and all exterior and interior paint was donated by Sherwin Williams and painted by Alan Vargas.
As we continue our tour inside, I want to personally thank those of you that reserved your ticket for the chance to win this gorgeous home. And if you were not the lucky winner, then Deep South Custom Homes can still build your dream home! Also, please donate to St. Jude children's Hospital if you feel led to do so. Saving children's lives is St. Jude's passion. You never know when a friend or family member will need their treatment.
Original article from Stages Mississippi